We asked for cameras on the iPad 2. Apple threw us a bone and complied. But, why the alleged poor quality? Does it matter? Don't get me wrong, Steve. We're all glad you answered
Task management is intensely personal. Some like it simple, some complex. The Toodledo iPad app lets you choose. The only thing I haven't yet embraced about the app is the name, Toodledo, but the
As Shaun has directed our attention toward the possibilities of sharing Apps purchased in the Mac App store, this seems like an ideal time to direct your attention toward one of my favorite Apps
iPad 2 sounds like a hit. *too fast to be slow, slightly condescending golf clap* Hope all of you are as happy as you hoped. I bet that iPad 2 will change your lives.
Sort of like the old "chicken in every pot" political slogan, electronics retailer, Best Buy, is rumored to be putting an iPad in the hands of every retail employee. A boatload of iPads for
ZAGG, the maker of invisibleshield and sponsor of the Maciverse Monthly Giveaway, recently sent us a ZAGGSparq to use and play with. The device itself is designed to to be a portable iPhone charger,
In his triumphant return, Steve Jobs announced the iPad 2 today. It was met by the normal fanfare of Apple products and enjoyed front page coverage on the New York Times' website. Again, we
Steve Jobs stunned the world after taking the stage today. But as exciting as it was to see Jobs back on stage, there was some business to be taken care of. It came in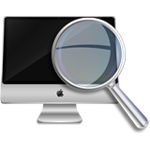 Maciverse is a site dedicated to Mac Help. We aim to provide Mac Help guides, tutorials, reviews, and information that can assist Mac owners get more from their computers, iPods, iPhones, iPads, and other Apple products. Visit Maciverse.com for Mac Help tips and information or subscribe to our newsletter or RSS feed to stay up to date on all the latest and greatest from your Mac Help site, Maciverse!